When I looked over
Sweetnicks
' list of
top 20 ARFs
, cranberries caught my eye. I can't find cranberries here except around the holidays, so I wanted to be sure to try some cranberry recipes before they are gone.
Such was the inspiration for tonight's dinner. It was very tasty - bursting with flavor and color - and healthful to boot. I love meals like that! However, I ended up using leftover cranberry sauce from Thanksgiving that was in the freezer. Not that using up a leftover was a bad thing, but for my next ARF recipe, I'd like to try something else with fresh cranberries.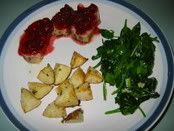 Stay tuned for something sweet and something savory tomorrow for New Year's Eve.....