Whew, today was a busy day at work. I only work 3.5 hours a day, but I also volunteered in my son's classroom today, so it was a fuller day than usual. Once I got to work, it was phones and sick kids non-stop! I'm pretty tired, but that's only because I'm spoiled and not used to longer days anymore, so I'm determined to stick to my dinner plans!
We're trying a new recipe tonight from Martha Stewart's Everyday Food. I'm using chicken breasts as well as thighs, so I'll have to figure out how to adjust the cooking procedure so that the breasts don't dry out. I also couldn't find boneless skinless thighs, so I guess I get the pleasure of boning and skinning them - yuck. I'm excited to finally be using up one of the two bags of frozen artichokes I picked up on my last trip to Trader Joe's (the closest one to me is 2.5 hours away, so I don't get there very often to say the least!).
I served this over whole wheat couscous, along with balsamic-glazed green beans.
I'll tune in after dinner and write in our review and comments. Until then.....
Chicken with Artichoke Hearts
Source: Martha Stewart's
Everyday Food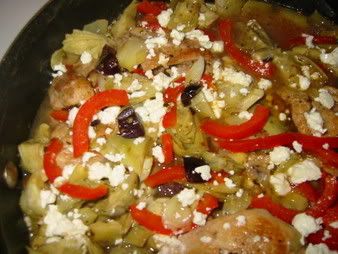 Serves 4; Prep time: 20 minutes; Total time: 40 minutes
Because the chicken in this Mediterranean-style dish is braised, thighs are best. Dark meat stays moister than white; it becomes even more tender when cooked in liquid.
2 tablespoons olive oil
1 1/2 pounds boneless, skinless chicken thighs, cut into 2-inch chunks
Coarse salt and ground pepper
4 garlic cloves, minced
1 tablespoon chopped fresh oregano (or 1 teaspoon dried)
1/4 teaspoon crushed red pepper
1/4 cup red-wine vinegar
1 red bell pepper, ribs and seeds removed, cut into 1/2-inch strips
(I added about 1/4 cup of chopped kalamata olives)
1 package (10 ounces) frozen artichoke hearts, thawed and halved
4 ounces feta cheese, crumbled
1. Heat oil in a large skillet over high heat. Season chicken with salt and pepper; add to skillet, and brown on all sides, about 10 minutes.
2. Reduce heat to medium; add garlic, oregano, and crushed red pepper to skillet. Cook, stirring constantly, until fragrant, 1 to 2 minutes. Add vinegar; cook, scraping up browned bits from bottom of skillet with a wooden spoon, until liquid has evaporated, 1 to 2 minutes.
3. Add 2 cups water to skillet, and simmer over medium heat 10 minutes. Add bell pepper and artichoke hearts; simmer until chicken is tender and liquid has thickened, 5 to 10 minutes. Remove from heat. Stir in feta cheese, season with salt and pepper as desired, and serve.
Per serving: 377 calories; 19.8 grams fat; 39.8 grams protein; 9.6 grams carbohydrates; 4.6 grams fiber
Martha's Note: Since they are not packed in oil as many jarred artichoke hearts are, frozen ones taste the closest to fresh.
My Notes: This dish is probably not a repeater for us. I'm not a big fan of brothy dishes and this fell into that category - I prefer a sauce with lots of flavor - not just a runny broth.
I was more interested in the dish when it looked like this - a thicker, richer looking sauce.
Perhaps taking the chicken out and cooking down the sauce with a bit of wine would have been the answer.

This was my first time cooking thighs (much less skinning and boning them) and I was pleased with how they came out - they were tender and tasty and I would definitely cook with thighs again.
Definitely worth going outside the box, but not my favorite dish.